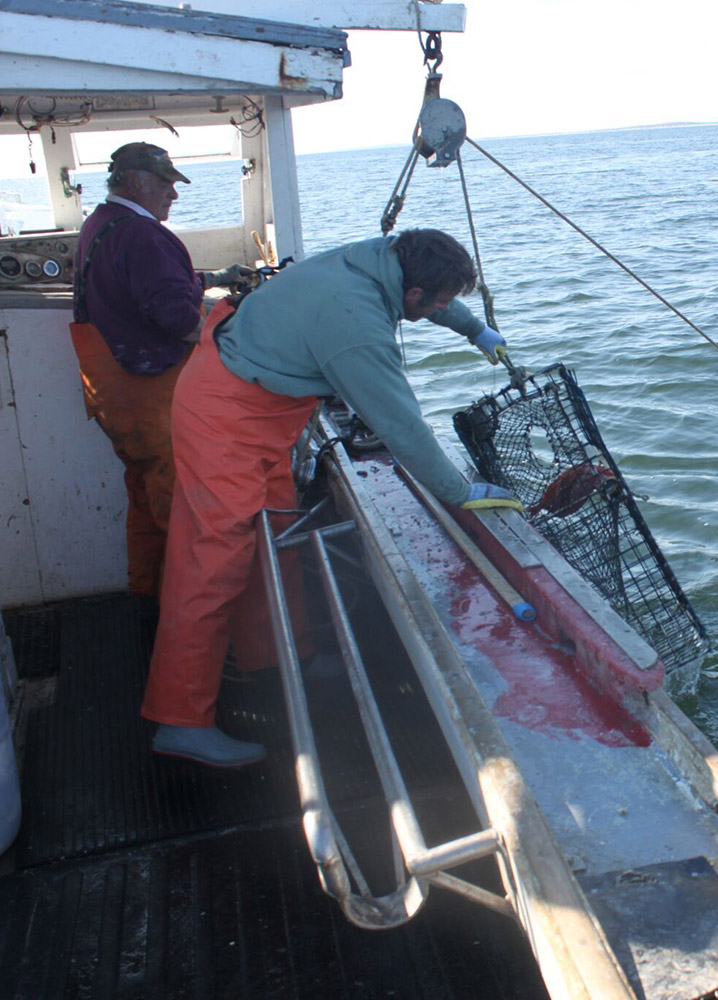 Catch Lobster.
Not Back Pain.
Lobstermen have one of the highest rates of job-related injuries in the country. For New England lobstermen, it's common to work in pain. So what is it about the work that takes such a toll on the body? It's the bending, the reaching, lifting and repetitive, robust work with traps and lines necessary to find and harvest enough lobsters to make a living.
A recent study surveyed 395 Northeast lobstermen about back pain.
One-half of the lobstermen surveyed had low back pain and even more suffered from injuries in the upper extremities—shoulders, elbows, hands and wrists.¹
The Northeast Center works closely with Scott Fulmer, Ergonomics Project Manager from UMass Lowell. Fulmer believes the best sources of knowledge on how to reduce risk comes from the men and women who do the work. That belief formed the basis of his project with the Northeast Center on "Participatory Ergonomics with the Lobster Industry."
The lobstering industry is made up of thousands of independent operators who typically engage in all aspects of their work using non-standarized boats through a "do-it-yourself" approach. This makes lobster workers ideal for participatory ergonomics—a process of involving the people most affected in planning and controlling changes to their work environment to improve work efficiency and reduce bodily strain and injury.
Train lobstermen in ergonomics principles.
Hold forum discussions with lobstermen and other stakeholders.
Together identify the problems, explore solutions, evaluate how they work and share findings with the lobstering community.
"If you pay close attention, you'll notice that boats in a fleet vary in some key areas–block height, rail height, angle between the hauler and the block, horizontal distance from the deck where the captain stands to where the trap comes to the block, and even vertical height of the boat from the water and the angle of the hull."
Scott Fulmer
Ergonomics Project Manager, UMass Lowell
Videos of 'DIY' Boat Alterations
This video series by Scott Fulmer features DIY boat alterations and task protocol lobstermen made to make the work more efficient and less pain, strain and injury inducing.
Working Closely with Academic Partners
For more information about the project, contact Scott Fulmer at UMass Lowell or email us at info@necenter.org
Share how you've adapted how you work, on the boat or at port, to reduce work-related pain in both lobstering and fishing at large.
Contact Northeast Center